"…until we all attain to the unity of the faith and of the knowledge of the Son of God, to mature manhood, to the measure of the stature of the fullness of Christ, so that we may no longer be children, tossed to and fro by the waves and carried about by every wind of doctrine, by human cunning, by craftiness in deceitful schemes."

Ephesians 4:13-14
After we are saved through grace by faith in Jesus (Ephesians 2:8), God desires for us to continue to grow in godliness (Titus 2:11-14), which includes growing in stability of belief and faith (Ephesians 4:13-14).
Is your faith, hope, love, mind and overall life tossed around by circumstances, other beliefs and things that go against God's Word?
God desires better for you,
And He promises to help you.
Here Are 3 Things You Can Do To Root Yourself Firm In Jesus
Study/Learn God's Word
The most important thing you can do is to discover more of Who God is and what He says by studying His Word, the Bible.
As you get to know the Bible more, you begin to filter life's situations and other ideas by what the Bible says, which can help you from being "tossed to and fro" by things and people around you.
Take, for example, the 4 G's that Tim Chester writes about in his book "You Can Change".
God is great – so we don't have to be in control.
God is glorious – so we don't have to fear others.
God is good – so we don't have to look elsewhere.
God is gracious – so we don't have to prove ourselves.
These truths are rooted in God's Word and can apply directly to our lives and change the way we respond to external situations and internal dialogues in a way that aligns with God's will.
Below is one of my favorite Peanut comics that illustrates this concept well: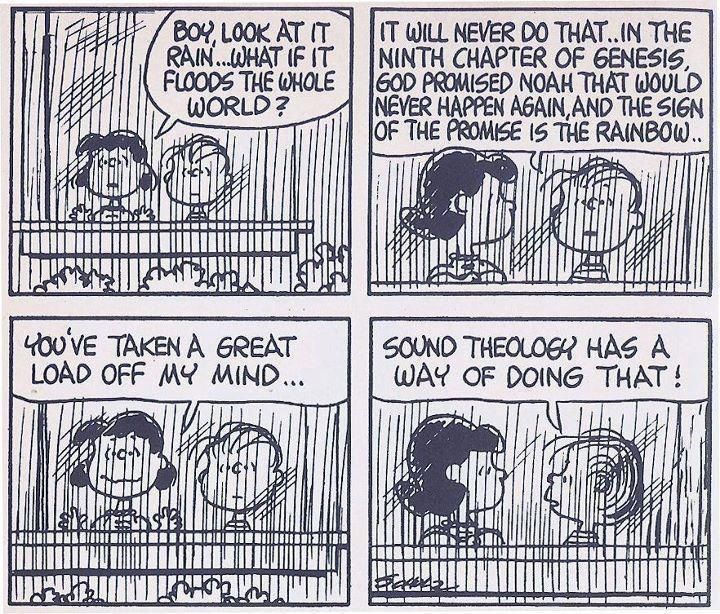 By having a good grasp on what God says about Himself, ourselves and the lives we live, you will be less likely to be swayed in life's circumstances and ideas that you hear.
If you need help in studying God's Word, I've written many posts on how do study the Bible, including this two part series you can check out here: part 1 and part 2
Apply God's Word
As important as it is to know God's Word, it's nothing if you don't apply it.
This includes obeying Jesus (John 14:15-17)
And also, and more importantly, embracing Him (John 15:5).
As we apply God's Word, we draw nearer to Him and bind our hearts and lives to Him as our stability in times of trial.
One thing I want to note is that applying God's Word isn't simply doing better and trying harder but also relying on God's Spirit for the grace to have God live through your life as we're reminded in Philippians 2:13.
For more on this, you can read this past post I wrote titled "We Need God's Spirit to Bear the Fruit of the Spirit."
Live In Christian Community For Encouragement And Accountability
It's been said that you can can a Christian alone, but you can't live the Christian life alone.
Here's what that means:
Your salvation is a completely individual act between you and Jesus,
But the act of living life as a Christian requires other Christians to be in your life.
Christian community is extremely important. Jesus ordained it so that we would be an important source of encouragement and accountability to each other, in order to help each other run our race of faith with endurance and continue on the straight and narrow as we follow Jesus together.
For more posts on this topic, I've written a post on "The importance of community" and also on "How To Invite Others Into Your Real Life" and build Christian community.
---
I hope this encourages you to press on and secure your faith and life in Jesus on a daily basis, and as the opening verse encourages us to no longer…
…be children, tossed to and fro by the waves and carried about by every wind of doctrine, by human cunning, by craftiness in deceitful schemes."

Ephesians 4:14